Hard it is to Stir My Tongue
Raiding the Otherworld for the Elixir of Poetry
Clive Tolley
Suomalainen Tiedeakatemia
Folklore Fellows' Communications 317
Tallinn 2019, 272 pp.
ISBN 978-951-41-1140-2
Available at the Tiedekirja bookstore.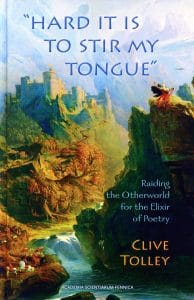 Where does poetic inspiration come from? This has been a puzzle for as long as poetry has been around. This book surveys some of the ways poets have thought of their craft, focusing particularly on medieval sources which see the Otherworld as a fastness of poetic inspiration, whence it has to be raided.
Clive Tolley is a docent in the folkloristics department of the University of Turku in Finland, specialising in comparative mythology.
---
Contents
List of  Illustrations
Note on the front-cover illustration
Preface and Acknowledgements
READ ONLINE Prolegomena
READ ONLINE 1.Introduction
The Poet's Craft
2.Scandinavia
Óðinn's Booty
3.Wales
The Cauldron of  Poetry
4.Ireland
The Spring of  Knowledge
5.Northumbria
The Kenotic Inversion of  Tradition
6.Greece
The Metaleptic Otherworld
7.Finland-Karelia
The Chest of  Words
8.Siberia
Making the Irreal Real
9.England of  the Romantics
Wresting the Evanescent from Oblivion
10.Conclusion
References
Bibliography
Index