Exotic Dreams in the Science of the Volksgeist. Towards a Global History of European Folklore Studies
Diarmuid Ó Giolláin
The Kalevala Society
Folklore Fellows' Communications 325
Helsinki 2022
420 pages
ISBN 978-952-9534-04-3
Available at the Tiedekirja bookstore, 42€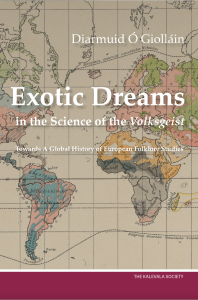 The emergence of folklore studies is usually attributed to specifically European circumstances in the late eighteenth and early nineteenth centuries. This book argues that influences from and the consequences of the expansion of powerful states beyond the bounds of Europe informed folkloristics as much as did conditions within.
The Noble Savage and the idea of heroic societies. Herder's voracious ethnographic reading. The scientific description of peoples over the Eurasian expanse of the Russian Empire. The development of Indo-European and Finno-Ugric philology. The world-wide gathering of material culture artifacts.
Such reflection on and observation of non-European peoples and their cultures resounded through Europe and were a key influence on the elaboration of a folkloristic discourse. 'Domestic' (i.e. European) ethnography was, despite surface differences, part of a general ethnography.
The book's argument is illustrated with chapters on the development of the ethnological sciences in France, Italy and Ireland within their different political, social and cultural contexts.
Contents
Acknowledgements
1. Coordinates
Empires and the Frontiers of Europe
Provinces, Colonies, Nations
Myth, Oral Tradition, Poetry, Primitivism and Heroic Societies
Ossian and the Discovery of Oral Poetry
Herder, Cultural Relativism and Literary Liberation
Nation, Language, Ethnicity
Language, Philology and Mythology
Race and Evolution
Ethnographic Exhibits: Science, Education, Entertainment
The Emergence of the Ethnological Sciences
Folklore and Anthropology in the Settler Societies of the Americas
2. France
The Language Question and Regional Identity
Regional Languages: An Outline
Folklorists and Regional Languages
Regions, Regionalism and Centralism
Early Interest in French Popular Culture
Folklorists, Philologists and the First Folklore Journals
Arnold Van Gennep
A New Scholarly Society
The Rise of French Anthropology
France, the Arab World and the Conquest of Algeria
Van Gennep in Algeria
Juridical Ethnology in Algeria and France
Ethnography, Expositions, Museums
The End of the New Folklore Research
3. Italy
Political Unification and Linguistic Disunity
Discovering Popular Culture Before Unification
Unification, Social Conditions, Culture and Delinquency
Anthropology and Post-Risorgimento Folklore Studies
Explorers, Imperialists and Italy's First Colony
Loria's Expedition To Lapland and Turkestan
New Guinea: Colonialists, Traders, Explorers, Missionaries, Anthropologists
In Eritrea
Italian Museum Ethnography
Collecting in Caltagirone
Ethnography in the 1911 International Exposition
The First Congress of Italian Ethnography
Lares
Folklorists and Anthropologists between the Wars
4. Ireland
Conquest and Its Consequences
Land, People, Social Conditions: Statistics and Travellers
Anglo-Irish Interest in Native History and Culture
Thomas Crofton Croker
After the Union: Famine, Land, 'Home Rule'
The Growth of Scientific Research Into Irish Culture and History
Douglas Hyde
Hyde in New Brunswick
Hyde and the Malecite
Hyde and Irish-American Culture and Politics
Saving the Irish Language and De-Anglicizing Ireland
The Gaelic League
Haddon, Evolutionary Anthropology and Folklore
Ethnographic Collections and Representations
Irish Ethnographies in the New Century
Conclusion
Colonial Legacies in 'Colonized' Europe?
Colonial Folklorists and Postcolonial Folklore Studies
Works Cited
Index of Persons
Index of Places
General Index